On October 15, 2019, Lu Peimin, Chairman and Party Secretary of the Taizhou CPPCC led a team to visit Jiangsu Ligong Fruit and Vegetable Machinery Co., Ltd. for investigation and guidance. Chairman Li Qin and General Manager Shi Guihong extended a warm welcome to the leadership of Chairman Lu and his party. Together with President Lu and other leaders, they visited the product display center and a freshly-made carrot production line.
Mr. Shi introduced Chairman Lu in detail the production and operation of the company, product performance, etc., and demonstrated on-site operation of some cutting equipment. The product effect was recognized by leaders.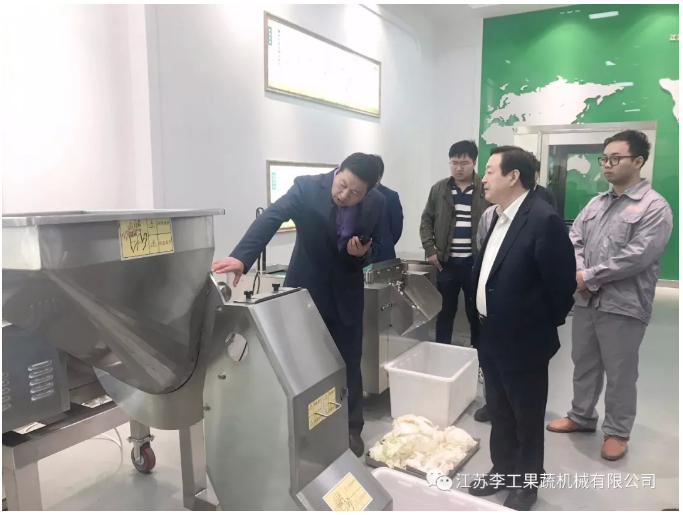 After listening to Mr. Shi 's introduction, Chairman Lu gave affirmation to the operation status of the company and hoped that the company would continue to attach importance to technology research and development, pay attention to environmental protection in food processing, and give full play to the advantages of Xinghua agricultural products and continuously improve Product competitiveness. Finally, Chairman Lu also inquired carefully about any difficulties in the production and operation and development of the company, and what needs to be coordinated. Li Dong and President Shi were very moved after hearing this, and told Chairman Lu and the leaders that they must It is necessary to do a good job in the enterprise, and use gratitude to make good products.
Sha Shunxi, Chairman of Xinghua CPPCC and Secretary of the Party Group; Li Bei, Member of the Standing Committee and Minister of United Front of the CPC; Shen Decai, Deputy Mayor and Secretary of the District Party Working Committee; Zou Xianglong, Vice Chairman of the CPPCC; .